You are welcome to contact us directly at ndalamacreations@yahoo.com for information relating to our online store.
We are happy to answer any questions about our products and to assist in making your experience with Ndalama African Desert Crafts an enjoyable one.If you are looking for a specific or unusual African piece, we will happy to assist you in finding what you want. Many of our artisans are happy to create custom pieces upon request.
To contact us about travel in Mali or Botswana please use africanadventures@yahoo.com
We sincerely appreciate your interest!
Debbie Logan - Nxamasere, Botswana
Featured Product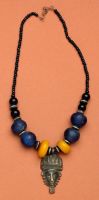 $60.00
Top